I am getting very tired of having to print rafts. But when I try to go raftless it does not stick to the build plate. All tips on how to do that successfully would be more than welcome.
Hairspray!

I have successfully printed without raft on blue tape with a light coat of hairspray. I reapply before each print and it hasn't failed me yet. That is with both ABS and PLA.



Posts

: 39


Join date

: 2015-10-17



Do you have the root or the root plus?
with the Root Plus, bed at 80, and Aqua Net. Aqua Net is the least expensive hairspray out there, and EXTREEEEEEMLY good at sticking prints to a heated bed.
I've been told that if you don't have a heated bed, then a "print wash" will work with ABS.



Posts

: 83


Join date

: 2015-10-17



I have the standard Root, and therefore printing in PLA. I plan on attempting some hairspray prints later today.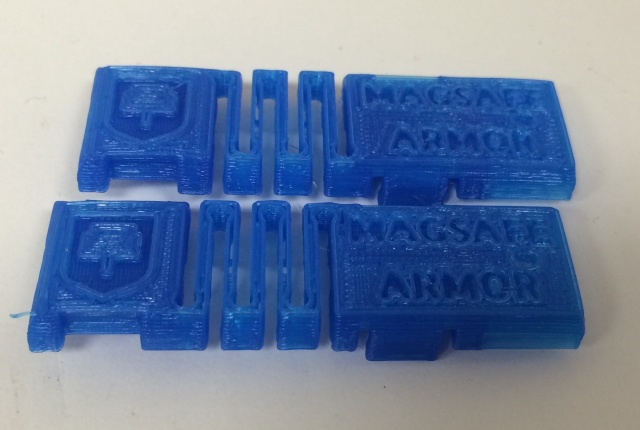 My first raffless print. Hopefully I can repeat the results.
Printed on 2090 tape with Salon Selective All Day extra Hold.



Posts

: 83


Join date

: 2015-10-17



I print raftless for most prints. Try the following:
1) Slightly reduce the distance between the nozzle and the print bed, ensuring that the bed is level at all corners. Instead of "the thickness of a business card" between the nozzle and the print bed, use the thickness of a piece of paper as your guide. If you hear a "thunk-thunk" noise when the print is in progress, you're too close. (This is the extruder struggling to extrude when the nozzle is too close to the bed.) If the extruded material has wobble lines or is not slightly flattened (or doesn't adhere), you're not close enough. When it is just right, PLA prints will stick well to blue tape during printing, but will be easy to remove without tearing or lifting the tape.
2) Try printing at slow speed. Adding a couple of degrees to your print temp helps if you are having layer adhesion issues, as well.



Posts

: 83


Join date

: 2015-10-16




---
Permissions in this forum:
You
cannot
reply to topics in this forum